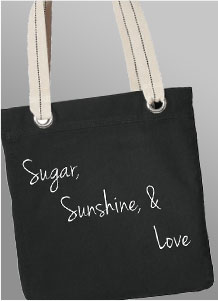 Sugar, Sunshine & Love Tote
Shopping, commuting or sightseeing, our S.S.& L Tote is your companion. Contrast lining, striped handles and large metal grommets add a touch of whimsy to this casual tote. The open-top design offers easy access. An interior zippered pocket keeps small essentials secure.
11-ounce, 100% garment-washed* cotton canvas / Full-lined
Dimensions: 15.75"h x 13.25"w x 3.5"d, Approx. 730 cubic inches
Cost: $21.50
---
item code: AMSSLTote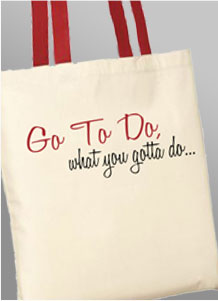 Go To Do, what you gotta do... Tote
Our Go To Do basic carryall tote with red handles is light but durable to handle your general needs.
100% cotton
Reinforced stitching on handles
Dimensions: 15.75"h x 15.25"w
Handle Length: 21.5"
Cost: $16.99
---
item code: AMGTDTote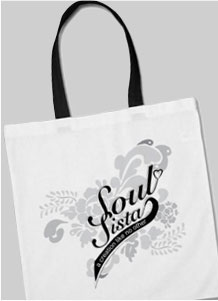 Soul Sista "A Creation Like No Other" Quick Tote
With a slim, fashionable design, and colored handles, this tote is environmentally friendly and truly is a great value. Our tote is made from 100% cotton and has strong handles with reinforced stitching.
Dimensions: 15.75"h x 15.25"w.

Cost: $13.95
---
item code: SSCLQT